The Tahoe-Truckee real estate market continues to settle as the extreme inventory drought stifles transaction numbers.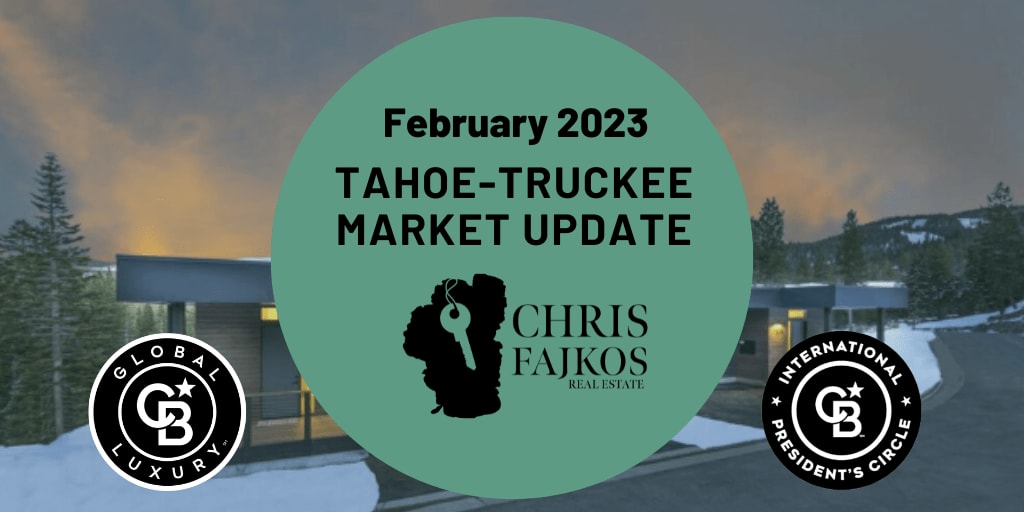 February closed with a mere 47 total sales, a tick down from January's tally of 48 and down 64% from the 10-year average for the month. The average days on market was 77 days, up from 53 days the previous month. And the supply of inventory continued to decrease to a painful 1.89 months of housing (for context, the market needs 5 to 6 months' supply of housing inventory in order to make it a 'balanced' market).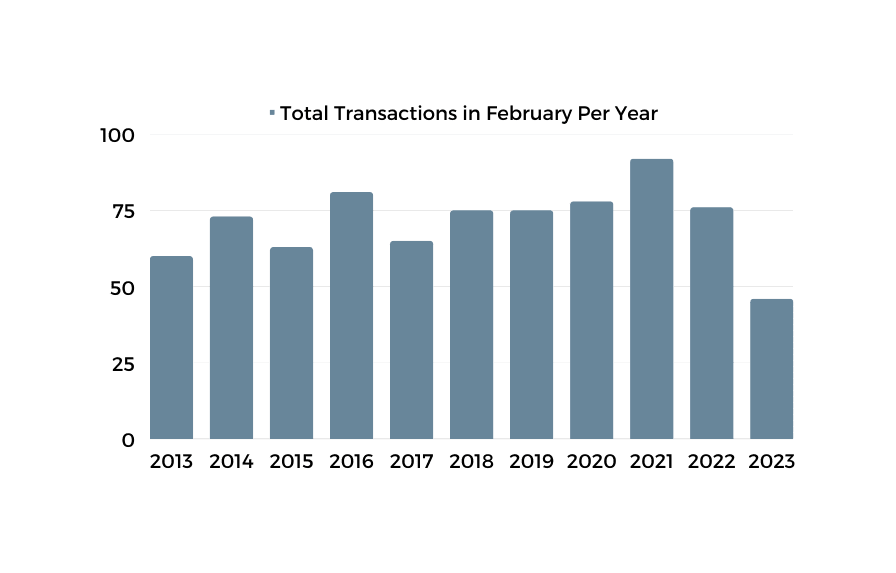 Despite such a meager inventory movement, the median sold price increased, up 12.5% from the previous month of $977,500 to $1,100,000. For further context, the catalyzed pandemic market years of 2021 and 2022 brought median sold prices of $1,000,000 and $1,100,000, respectively (see the below graph for more detail). The market continues to show either minor softening or outright flattening versus any sort of catastrophic downward spiral in sale prices.
MoM Median Sold Price vs. Media List Price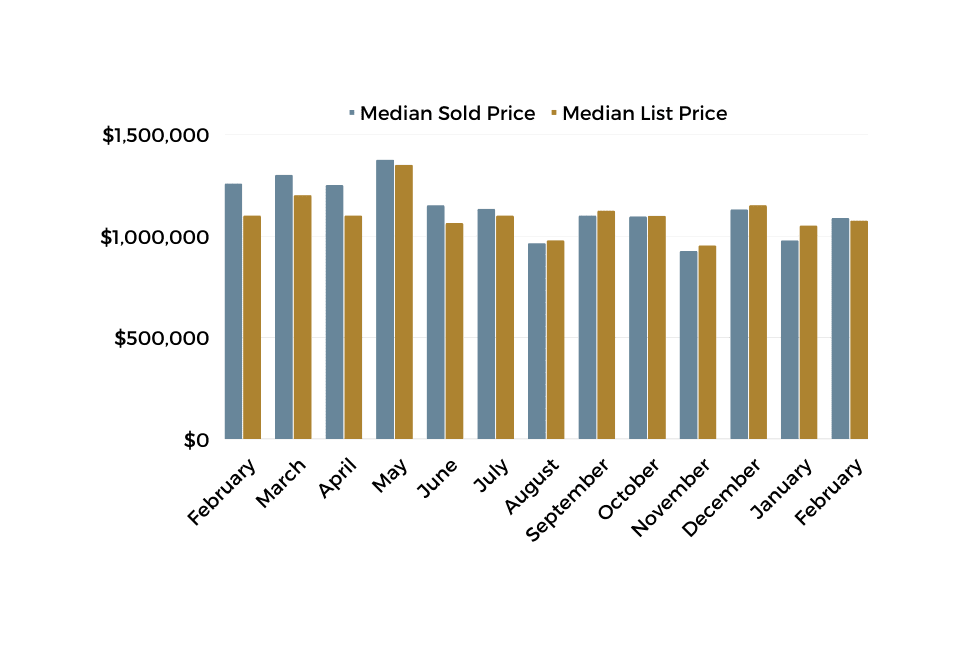 YoY Median Sold Price vs. Media List Price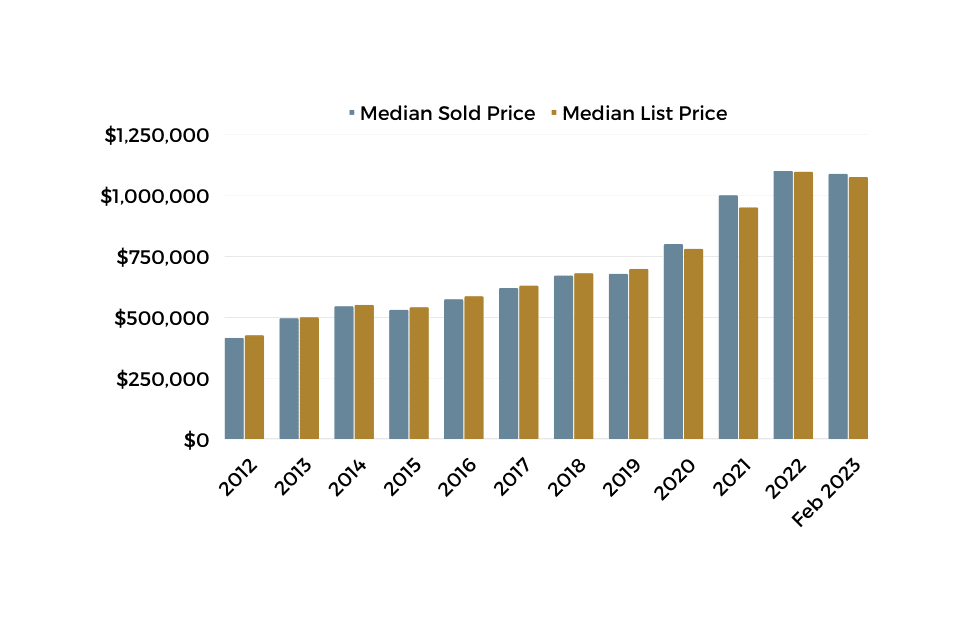 For the luxury market (specifically the resort communities within Truckee), after a quiet start to the year
Martis Camp
and
Lahontan
finished the month with a quick burst of closings. In Martis Camp, two mid-size estates closed within 96% of asking, while in Lahontan three pre-2007 built homes closed demonstrating a demand for older builds in the sub $3.5M range.
Schaffer's Mill, Old Greenwood, and
Mountainside
recorded zero sales for the month, yet demand is very high in these communities, especially in Mountainside, whose inventory is always highly constrained given the community's exclusivity.
Gray's Crossing
posted four closings with three homes currently in contract, showing that the community remains highly desirable for the right price. And Northstar is starting to see homes and condo listings enter the market as Sellers look to offload their properties after capitalizing on a full season of winter enjoyment and/or rental revenue.
Demand has increased in the luxury market within the last month, possibly due to Buyers readjusting their expectations and opting to invest in the immediate personal benefits gained from experiencing life in the mountains. Buyers are ready to purchase, but there's simply a lack of diverse inventory for them. The minimal level of transactions this month is also a symptom, albeit not a primary reason, of many Buyers writing substantially low offers, testing Sellers that are nowhere near any sort of distressed position.
In the luxury market, homeowners are only selling because they want to, not because they have to – proved by homes selling within ~97% of asking and increased days-on-market, meaning that they're more than happy to wait for the right offer. To reiterate, homeowners have a copious amount of equity in their homes and are locked into low rates secured during the pandemic boom (Source). There's room for negotiating pricing and terms, but this is still a Seller's market at the luxury level.
Homeowners on the fence about selling should set up a consultation to discuss the timely benefits of selling sooner rather than later – as well as key selling strategies I can provide to ensure getting top dollar for your home.
With just a few weeks until Spring, a burst of inventory will enter the market as the season changes. I don't foresee it being any epic flood that increases competition driving down prices. I see our market returning to the normalized rhythms of years past as consumers once again decide to invest in a place that holds so much intangible value.