Things are heating up in the Truckee – Tahoe area, both literally with the weather and metaphorically with the real estate market. Traditionally, the summer months represent the bulk of transactions for this very unique market, with peak sales culminating around Labor Day. After Labor Day, the market gets a lot quieter, as people turn their attention away from real estate and out of summer vacation mode.
June represented the continued upward rise of transactions, which correlates with historical summer trends. The month of June closed out with 101 transactions, a substantial 49% increase from the month prior and just short of the previous year's tally of 110. The median sold price dipped down 4.5% to $1,062,500 and a 7.7% decrease from the year prior at $1,150,000.
Month-over-Month Total Sales Transactions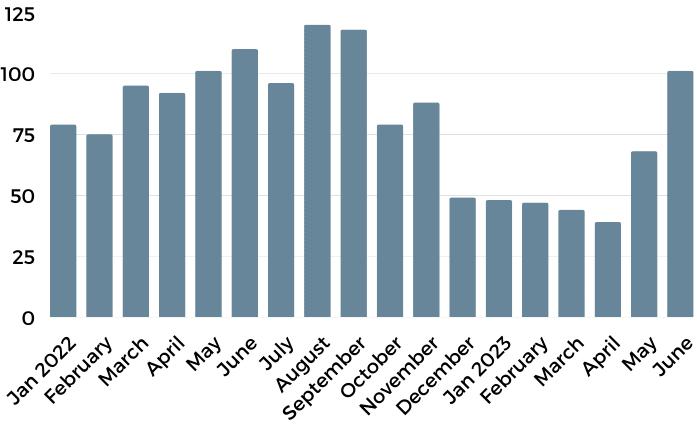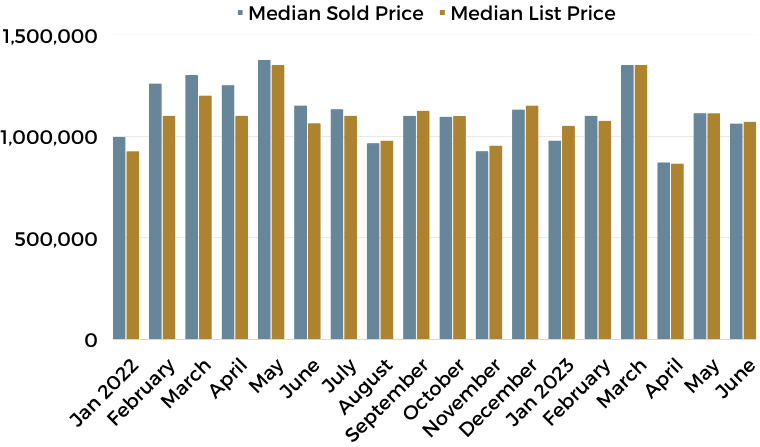 Here we are 6 months into the year and the market has only mustered up 404 transactions due to the lackluster winter performance. At this pace, we'll have to have a smoking hot summer, in terms of sales, in order to come close to matching transaction totals not seen since the financial collapse.
Year-over-Year Total Units Sold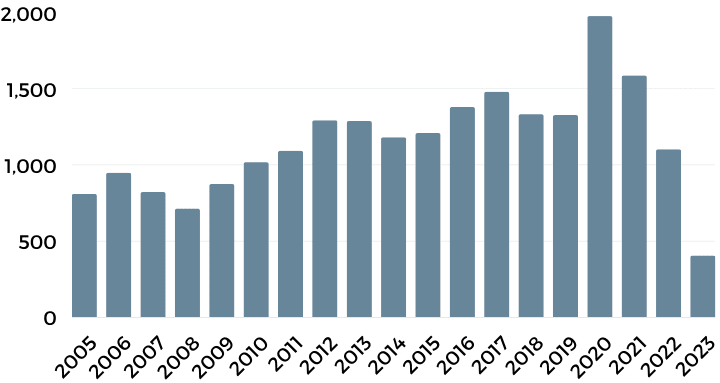 These dismal totals are more a reflection of minimal, quality inventory and frustratingly higher interest rates, rather than an outright downturn in buyer interest. Although there's roughly 4.25 months' worth of inventory on the market, the highest level seen since before the pandemic, demand quickly outstrips supply, especially at the ~$1M price point.
Looking back it's important to remember why this past winter was immensely impactful to the market. The winter was brutal, both in terms of the weather (the biggest winter in 70 years) and in terms of various negative occurrences in our economy. Interest rates accelerated quickly during this time, plus we saw several banks collapse, and inflation ran rampant. Now, as the economy is performing better than expected, many Buyers are feeling more confident in returning to the market now before interest rates potentially go down further, thereby driving up demand and home prices.
The Truckee – Tahoe market continues to operate well outside the confines of the greater, more primary, national housing market. Consumers see the value in owning property in one of the most beautiful places on Earth, both from a long-term monetary play and an immediate personal, tangible enjoyment aspect.