Although the calendar says spring, the Tahoe-Truckee landscape still looks and feels otherwise. This winter has been unprecedented, officially becoming Tahoe's second snowiest winter on record.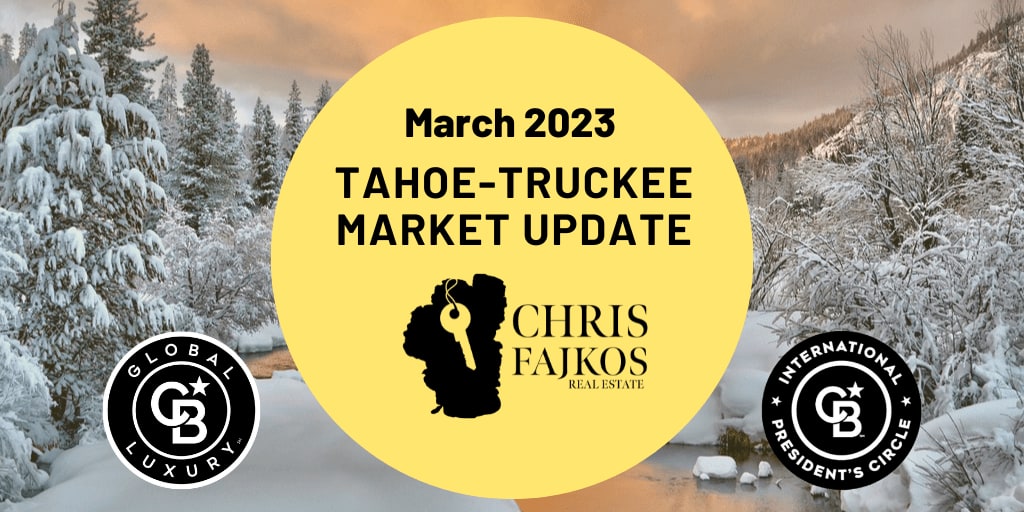 The snowfall has been abundant, but real estate transactions have not. March closed out with only 44 total transactions, yet another slight dip from the previous month's 47 transactions, representing a 6% reduction in home sales. Looking at Q1 as a whole, the total 139 transactions are dwarfed by 2022 Q1 at 249 transactions, representing a 44% drop.
Month over Month Total Sales Transactions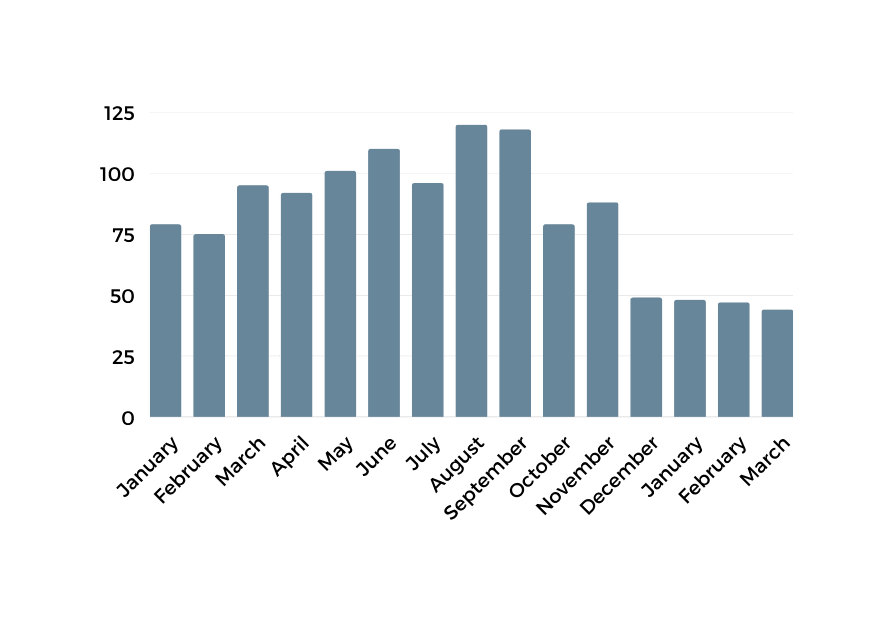 Despite another month of minimal transactions, the median sold price jumped 23% from the previous month to $1,3500,000. Perhaps just as eye-opening is that the median listing price of March was also $1,350,000. This shows that despite an absolute dearth of inventory, Buyer demand is still high, and they're willing to pay top dollar for the right property. Further supporting high demand is the median days on the market are down 37% to just 37 days.
Year over Year Monthly Sales Comparisons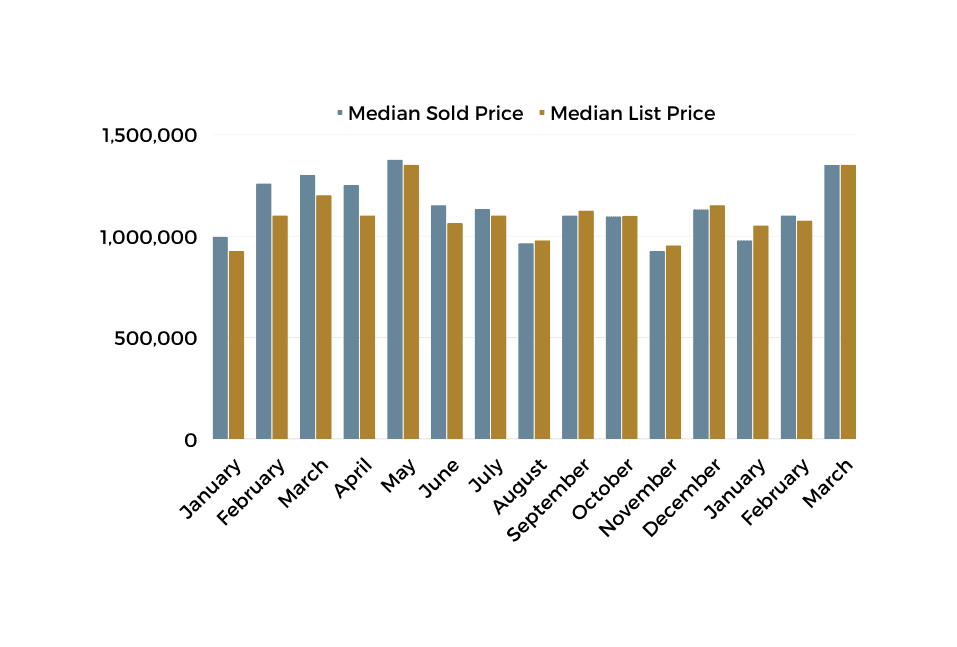 Speaking of a dearth of inventory, which currently rests at a painful 1.9 months of housing, relative to the 5-6 month benchmark needed to achieve equilibrium, this lack of inventory also creates this upwards trajectory of home sale prices. The basic law of scarcity – there are so few homes on the market it makes them that much more valuable.
Inventory will begin to start trickling out into the market as the temperatures begin to rise in Tahoe. However, there won't be any massive flood of inventory that will significantly impact home pricing. If anything, prices will hold steady or soften slightly as home shoppers are provided with options, which drives competition, and tips prices down a bit.
The Luxury Real Estate Breakdown
Tahoe's luxury real estate market saw some very interesting movement in March. Most notably, 11% of home sales were above the $5M price point – for added context, the average for 2022 was 4%.
Another exciting luxury update is in the
Mountainside at Northstar
community, where a Stellar townhome closed last month 3.4% under asking at $2.9M, and then two more went into contract right behind it. The two Stellar townhomes that are now pending went into contract lightning fast, spending less than a week on the market. Mountainside is the most unique community in the Truckee – Tahoe area; the ski-in/ski-out access creates an exclusive experience, bolstering demand and home values.
Martis Camp
had a great showing in March, with three estates transacting for $29M total. Of interest, 8428 Valhalla Drive went into contract after only spending 9 days on the market. This 8-figure property closed $700K under asking at $12.3M. This property checked many boxes – newer construction, superb design, large footprint, guest house, and sits on 2 acres backing to the 5
th
hole.
Lahontan
racked up two sales, and both homes were new construction, demonstrating a demand in Lahontan for newer, more modern architecture proven by the average sold price per sqft for that new construction being ~1,100/sqft. However, demand is also high for classic Lahontan estates as buyers seek a more entry-level home in the community, foregoing ultra-modern designs for the value that comes with large square footage and lot sizes.
Schaffer's Mill was quiet in March, turning in zero monthly home sales. However, demand is increasing in the community as 9324 Nine Bark Road went into contract in only 5 days. The home received multiple offers and is slated to close over asking.
Gray's Crossing
and Old Greenwood sister communities turned in 2 sales each. Of note, 11230 Henness Road in Gray's finally closed after spending 304 DOM. The home free fell from its peak asking price of $3.65M in August of 2021, closing a staggering $550K below asking. This is no fault of the home, as the property is exceptional brand new construction and rests just off the 6th tee box. Like many others listed around this time, the house simply missed the window to utilize pandemic-era pricing.
As the days grow longer and the snow recedes, I foresee the Truckee – Tahoe market returning to its more familiar pre-pandemic rhythms. Homes that are unique and rare will go fast and for top dollar. Other homes will likely sell within the traditional ~95% of the asking range. Barring any sort of intense shock to the market, this will probably play out through the summer. On the topic of increasing demand, perhaps that indicates consumers are looking to park some of their wealth into a tangible asset such as real estate. With recent turbulence in the banking sector, that doesn't seem so far-fetched, even though the issues of Silicon Valley Bank and First Republic appear to be isolated incidents.
Tahoe has always been a sound investment for those looking to play the long game. This has never been the market for flips or obscure get-rich-quick schemes. People buy homes in Tahoe for many reasons, and most commonly because homeowners understand that Tahoe's natural beauty, and thus desirability, ensure that the real estate market will always remain attractive now and always.