The temps may be falling but the October Truckee – Tahoe real estate market proved to be anything but chilly. The month closed with 129 sales, matching the month prior and boasting a 63% increase from the year prior. There are currently 59 properties in contract that are scheduled to close in November, another ~30 are needed to match the year prior.
Month-over-Month Total Sales Transactions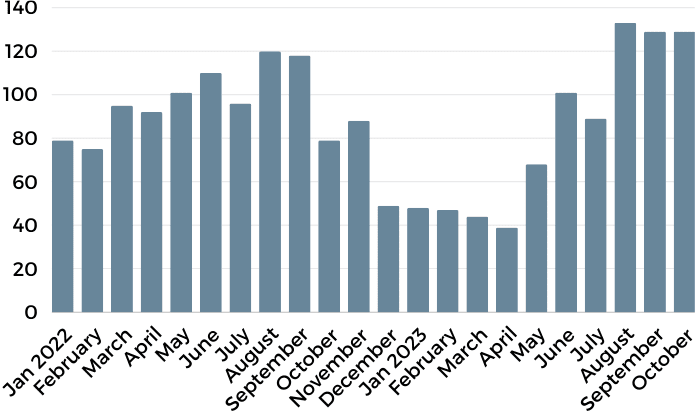 Prices continue to show stagnation, having fluctuated +/- $240K though out the year. October almost mirrored the month prior posting $1,115,000 for median sold price with a median asking price of $1,100,000, the difference being October homes sold slightly over asking by 1.3%.
Month-over-Month Total Sales Transactions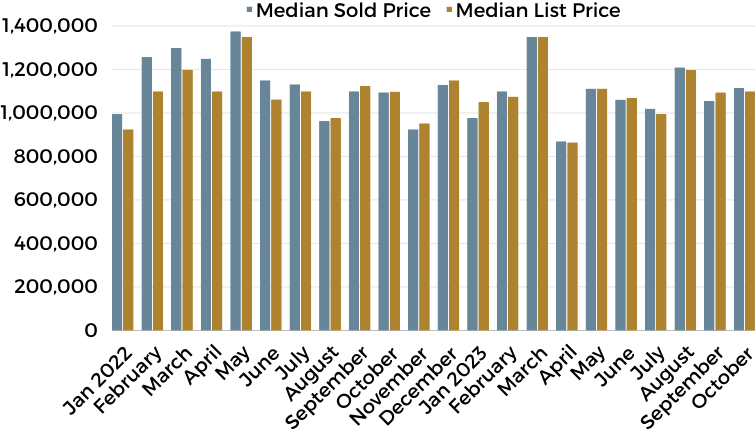 Inventory became further constrained, retracting 13% down to 3.5 months' supply. This can be attributed to both seasonal factors (less people list in the fall and winter) and the broader economic conditions that have been delivering this unique real estate market (owners with ~3% interest rates, current ~8% interest rates, etc.). Average days on market dipped slightly, down a full week to 42 days and down 13 days from the year prior. Historical data indicates that with reduced inventory Buyers become hyper selective; quality product moves quickly while sub-par options linger and rack up time on market.
Average Days on Market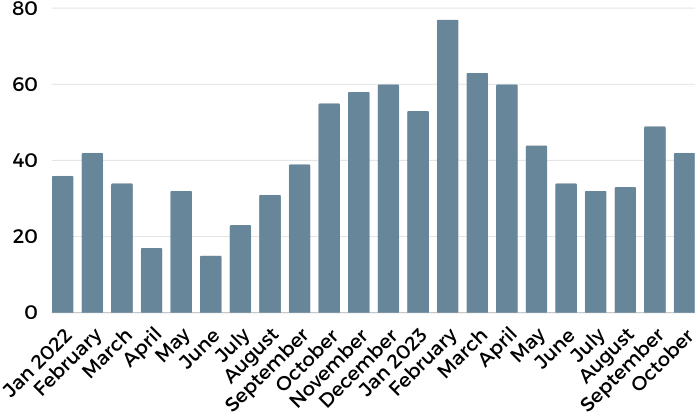 Despite elevated interest rates, the luxury segment had another steady turnout of transactions with 22 homes cresting the $2m mark and 5 going above $5M. In every resort, luxury community, it's important to point out that every single home sold under asking. Depending on the community, vintage, and price point the savings can be quite substantial. If you're interested in any of the resort, luxury communities please contact me to discuss further.
Martis Camp had an exceptional turnout, with four homes transacting. Of note. 9601 Almendral Court went into contact after only spending 7 days on the market. Despite market conditions, Martis Camp continues to demonstrate its value as the crown jewel of resort-centric Tahoe real estate.
Lahontan posted two sales, with both receiving substantial price reductions with 13305 Snowshoe Thompson and 321 David Frink closing $300K and $451K under asking respectively from their original list prices.
Schaffer's Mill had a busy month with 3 homes closing, all of which were single family homes that spent over 100 days on market. Of note, 9328 Heartwood Drive closed a whopping $800K below asking from their original asking price of $4.65M.
Gray's Crossing tallied up zero transactions while the sister community Old Greenwood reported a single closing with 12820 Caleb Drive closing $285K below asking at $3.1M.
Northstar Village reported zero transactions, however the outer neighborhood was quite active with five homes trading hands. Of those five homes only one came from within the prestigious Big Springs neighborhood, 1707 Grouse Ridge Road. Quality inventory remains scarce in Big Springs, if you've been thinking about selling in this area now would be a great time to leverage that scarcity and just in time for a full ski season. Contact me to discuss further.
Mountainside turned in zero sales. I would note that both 14053 Trailside Loop and 14455 Home Run Trail are languishing on the market, perhaps a savvy Buyer can capitalize on the lack of movement.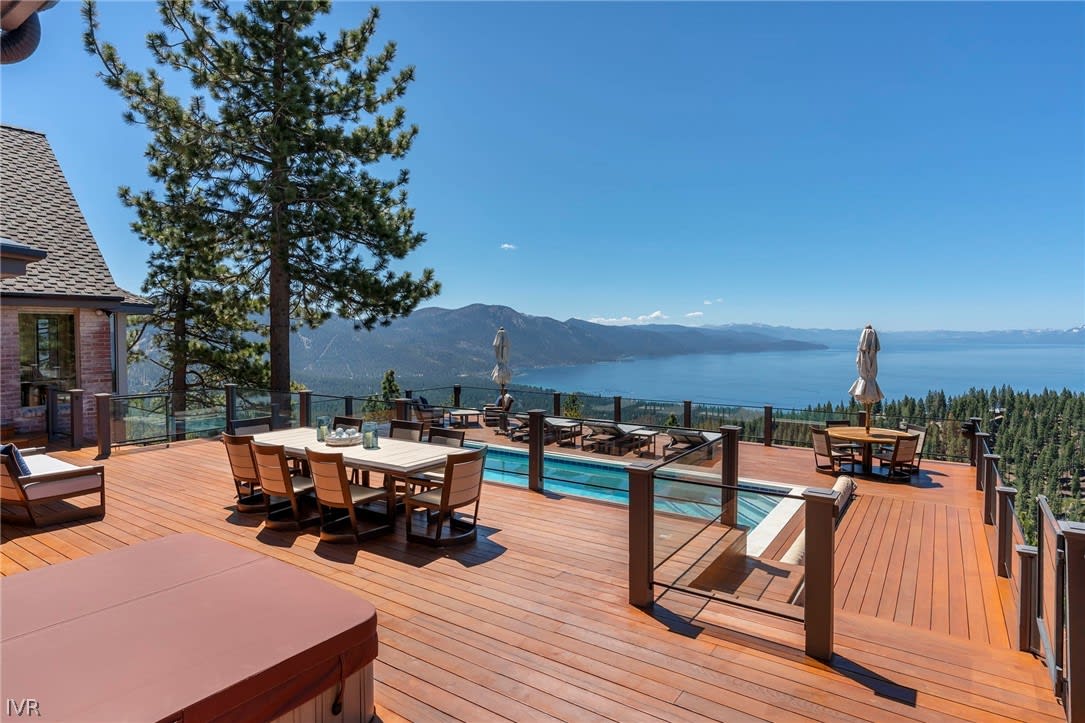 The Incline Village / Crystal Bay market is currently showing a slight buyer's market, relative to the Truckee – CA Lake Tahoe area showing a slight seller's market. While prices have recently plateaued, this is a real buyer's market and the supply of homes listed has started growing relative to demand. This indicates that prices could easily resume a downward trend in conjunction with waning demand, likely influenced by elevated interest rates. Conversely, prices are unlikely to move significantly higher until rates become less stifling. The latter of the these two scenarios, in my opinion, is the more likely outcomes.
As we await measurable snow on the ground we will also continue to see inventory wain. However, data indicates that we should continue to see steady demand all the way through the end of the year. As for interest rates, last Wednesday the Federal Reserve issued its monetary policy statement and decided to hold rates steady at 22-year highs. The main reason? Long-term rates have risen of late, which has caused financial conditions to tighten, thereby slowing the economy, and doing the job of the Fed.
The bond market loved the news and the lack of tough talk during Fed Chairman Jerome Powell's press conference, pushing rates lower. As such, The Mortgage Bankers Association said average 30-year fixed rates for conforming loan balances of less than $726,200 fell by 25 basis points [0.25 percentage point] to 7.61% for the week ended Nov. 3. Only time will tell if this marks the beginning of rates trending downwards. One thing is for sure, the Truckee Tahoe market continues to be a safe haven for long term real estate ownership, all the while providing unmeasurable personal enjoyment in one of the most beautiful places on Earth.