September presented that last major flurry of transactions before temperatures start to dip, the aspens start changing colors, and the real estate market enters a state of hibernation. Last month racked up 129 closings, which was about equal to the month prior and a hearty 9.3% increase from the year prior. Currently there are 91 properties pending sale with another 7 that should've already close by now. Add in a spattering of all cash deals/quick closes and it looks like October will surpass previous year's numbers.
Month-over-Month Total Sales Transactions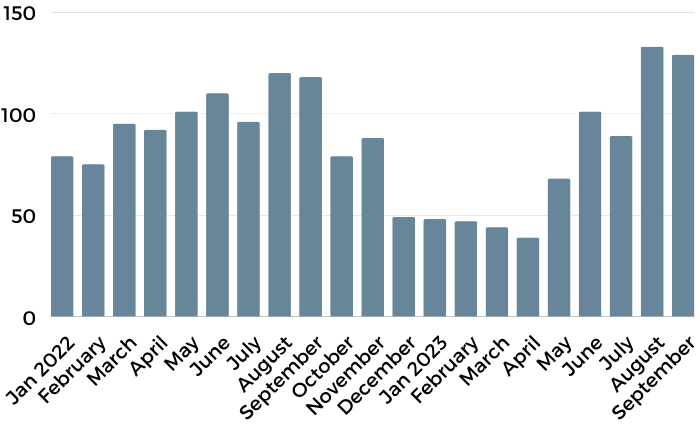 Prices did soften a bit, down 3.6% from the previous month and down 4.1% from the year prior. However, there's still hasn't been any clear indication that prices are trending up or down. The median sale prices since the pandemic:
2021 = $1,000,000
2022 = $1,100,000
2023 = $1,052,500 (to date)
Month-over-Month Total Sales Transactions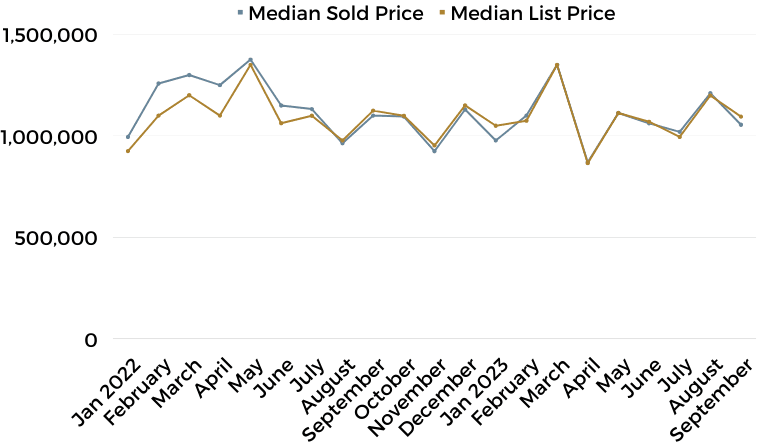 Inventory did waiver a bit, down 12% to 4.03 months of inventory. This number should continue to decrease as some sellers remove their unsold properties from the market to re-list in the spring, while prospective sellers also wait to officially launch in the spring. Average days on market ticked up from 33 days to 49.
Average Days on Market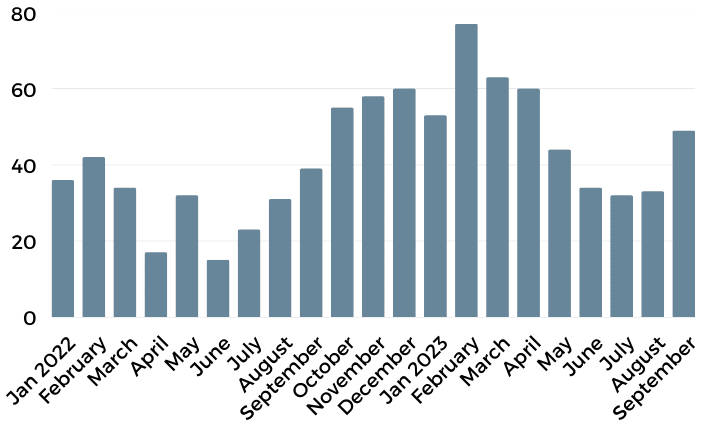 The luxury segment had yet another great turnout, with 8 homes closing over $5M, which hasn't been seen since the height of the pandemic market circa summer 2021. Stepping back, 23 homes closed over $2M, an impressive number that is on par with previous year's performances. Two homes also crested the $10M mark, with 9661 Dunsmuir Way in Martis Camp closing 11.5% under asking at $12,550,000 and 3675 Idlewild Way in Homewood closing 25% under asking to $10M.
Martis Camp reported a massive 6 transactions, with 3 cabins and 3 estates changing hands. Of note, both 8454 Newhall Drive and 8745 Breakers Court received substantial concessions at 14% and 12% under asking respectively. The lesson here is don't be afraid to write, especially in this post Labor Day / pre ski season market.
Lahontan closed out with 2 transactions both in the sub $3M category, essentially reserved for the more vintage estates. Of note, 12341 Garwood Dean went into contract after only spending 4 days on the market, demonstrating a continued strong demand for older Lahontan homes that need only minor renovations to look more contemporary.
Schaffer's Mill was quiet for the month of September, reporting no new transactions. However, 6 homes are currently pending with 3 slated to close in October.
The sister communities Gray's Crossing and Old Greenwood had a more modest showing with Gray's bringing in 2 sales while OG saw no new transactions. Of interest, 11695 Kelley Drive closed a staggering 26.5% under asking, having spent 200 days on market. To be clear, the home was never priced appropriately in the first place ($2.99M) and was clearly trying to invoke pandemic era pricing but to no avail.
Northstar had major activity, namely out in the community with 4 homes transacting. Of interest 1730 Grouse Ridge closed 17.5% under asking at $2M. In the Village there were 2 condos that sold, notably Iron Horse North 303 closed 6.3% under asking at $1,525,000. If you're getting anxious for ski season and are on the market for a ski centric home please call me to discuss timing.
Mountainside posted 2 closings, one of which being 14467 Home Run Trail that settled 6.6% under asking at $3.5M. Mountainside is notorious for having low inventory, namely due to its relatively small size, so if you're seriously looking in this community please give me a call to discuss options.
Incline Village and Crystal Bay closed the month with 33 sales, a 24% decrease from the month prior. Median price for a single family home is hovering around $2.3M while a condo townhome around $890K. If I may toot my own horn here for a second, my 759 Pinion Pine Way listing closed last month after only spending 8 days on market. We received 2 all cash offers within that time and closed at an admirable $2,450,000.
This is a very special period of time in the Truckee – Tahoe real estate market; as the season's change so does regional supply and demand. With lower supply comes reduced competition, which can be great for both Buyers and Sellers alike. With ski resorts opening in less than 2 months, now is the time to secure your mountain base camp in time to enjoy a full season of fun in the snow.